2.1.3.4

Fleet
MANAGEMENT APPROACH
The Fleet adheres to and applies the management approach of the wider SBM Offshore organization. Key to this are policies, commitments and mechanisms mentioned under sections 2.1.2 and 2.1.3. In addition, our Fleet also focuses on :
Supporting

SBM Offshore's

Target Excellence program: the Fleet runs an 'Excellent Days' program which measures and rewards safe operational performance by offshore units and crew.
Uptime: a key indicator for

SBM Offshore

measures the percentage of time the unit is available to produce. The Company aims to maintain its industry-leading levels of uptime, at or above 99%.
Local content and knowledge transfer targets in our countries of operations: which are accompanied by social development initiatives, as mentioned in section 2.2.
Development of a companywide Responsible Recycling Policy : for the sustainable end-of-life disposal of offshore units, applying the principles of the EU Ship Recycling Regulation 1257/2013 or equivalent.
SBM Offshore's assets are key value drivers for the Company and generate predictable and sustainable revenue and operating cash-flow for SBM Offshore through long-term Lease and Operate contracts. The expertise and experience of more than 2,650 offshore crew and onshore staff supporting the fleet ensures value creation through the safe, reliable and efficient operation of the Company's offshore fleet.
At the end of 2020, SBM Offshore was responsible for operating 15 units in the fleet across the globe, consisting of :
14

FPSO

s
1 Semi-submersible unit
With the following historic performance :
6.3 billion barrels of production cumulated to date
9,246 oil offloads cumulated to date
Almost 350 cumulative contract years of operational experience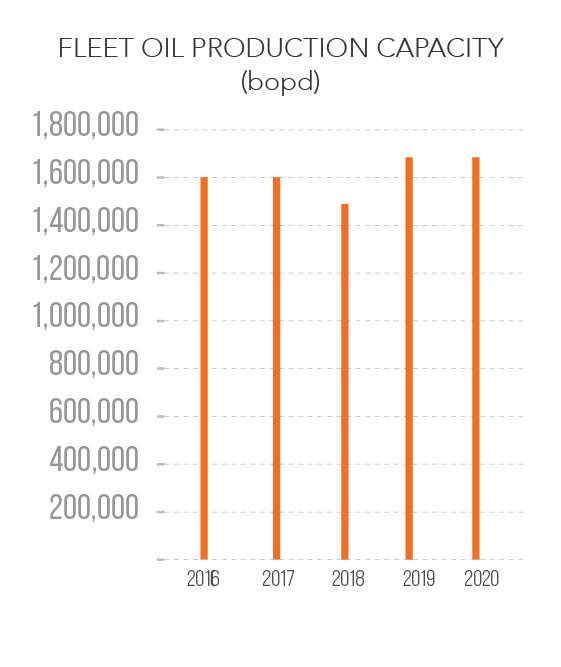 2020 PERFORMANCE
2020 represented a testing, yet ultimately successful, year for the Company's operations, with the challenges of the global COVID-19 pandemic impacting the operational focus particularly in the first part of the year, moving to a new managed normality and protocols in the second part. Strong strategic emergency response management of the pandemic and its impact on crew health and safety, logistics and travel ensured business continuity and good performance in offshore operations. Despite the pandemic, strong results were achieved in terms of occupational and process safety, while maintaining strong production uptime of 99%.There was slightly less vessel availability compared to 2019 essentially due to the ongoing commissioning of operations on Liza Destiny (FPSO), and the extension of a planned shutdown of FPSO Capixaba, at the client's request. The remainder of the Fleet turned in extremely high underlying production uptime of 99.4%.
In 2020, the following change occurred in the fleet operated by SBM Offshore: MOPU Deep Panuke PFC was safely disconnected and taken to shore in Nova Scotia, Canada for the recycling phase. This will be carried out in a local yard during 2021, and in full adherence to SBM Offshore's Responsible Recycling Policy.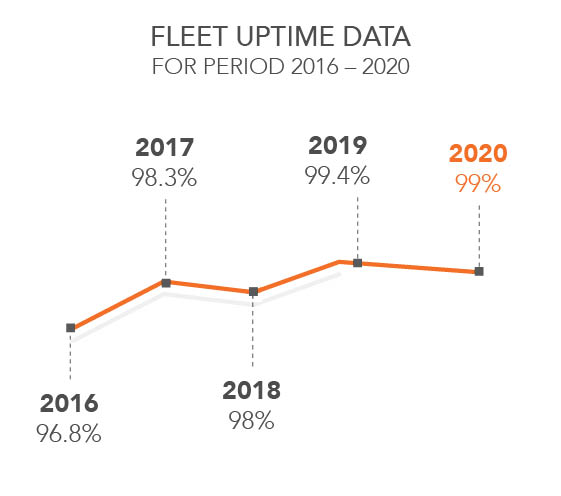 Despite 2020's pandemic challenges, various initiatives were undertaken and even accelerated this year to enhance operational safety, quality and efficiency through :
Training and Competency focus on projecting and resourcing growth, supported by a mature Talent program and Personal and Leadership Development programs
Health and Wellbeing, and Fatigue Management programs mitigating pandemic impact on offshore teams
Improved planning capability and tools for greater efficiency in daily offshore operations and project execution
Organizational development to enhance integrated regional support, Fleet Support services and Data Management
Deployment of digital solutions and applications for enhanced offshore operations, asset monitoring and predictive capability
Development of Guyana offshore operations and in-country infrastructure, with increased local footprint, growing human resources, positive social initiatives, and local content for strong operational performance
Within Asset Integrity, SBM Offshore's approach is to target asset preservation with optimal lifecycle costing. In 2020, progress was made on :
Expansion of the digital environment, data connection and management under the control of global operations monitoring centers and the deployment of predictive maintenance applications for equipment and asset optimization (see section 2.1.7)
Safety and Process Safety Management enhancements
Deployment of technological solutions, such as digital imagery for remote work preparation and inspections, offshore mobility devices, drones, virtual reality, and equipment integrity (Ex.) program for ignition risk management.
FUTURE
As a forward-looking operator, SBM Offshore leverages its unrivalled experience and industry-leading digital and technological solutions alongside our core values and approach to responsible business, to deliver sustainable, ethical operations with the highest standards of safety, reliability and efficiency. Under 'Smart Operations' in the Company's Digital Transformation, quality data, digital analytics and technology are accelerating the development and deployment of digital tools and initiatives across our fleet, providing internal value creation and optimized client service offerings.
In Guyana, SBM Offshore continues its operational ramp up, both offshore and onshore, in anticipation of Liza Unity (FPSO) arriving in 2021. SBM Offshore continues to expand and embed its presence in-country through the opening of new operational headquarters and investment in initiatives focusing on local content and knowledge transfer.